Software development


ABC AutoCAD is engaged from years in the development of custom software upon request for its customers. All this work is achieved in order to supply the maximum aid to customers and to allow you to always work with efficiency and rapidity. If you want to automate the design procedures, to make the repetitive operations immediate, to connect the graphical elements to database with a simple interface or you have any other requirement of customization, don't not hesitate to
contatact us
. Our technicians are ready to help you! To know more, take a look to our
customers services
.
Free opensource software


In this page you find some of our samples of plugins for AutoCAD.
To run them you need
AutoCAD Full (AutoCAD LT won't work). Download the plugin version matching your AutoCAD or Windows flavour (64 or 32 bit).
For AutoCAD 2010 and up you need VBA module installed. AutoCAD VBA is no more included in standard setup, so you must download it for free directly from autodesk and install it before installing plugins
For Vista, Windows 7 and Windows 8 users, you need to install the plugin in a folder on wich you own complete control (so avoid Program files folder..)
Remember that ABC AutoCAD software in this page is free and opensource: if someone made you pay for them report us!.
By the way, this means that our software comes supplied with the source code, so you can be sure that it does not contain spyware, malware or other annoying elements of disturbance. And you can also copy, modify, give it to other people or simply use it for free.
Windows Vista, 7 and 8 users:
When Setup program request you to choose the installation folder for the program, choose one that's non contained in the standard Program Files folder. Due to write limitations on the Program Files folder imposed by Vista, our installation and configuration script for AutoCAD would fail. Choose a different folder contained elsewhere.
See a video tutorial before use:
Video for ImportShapes
coming soon other tutorials for our free software.

Download free programs:
ImportShapes:
import ESRI ® Shape in AutoCAD.

ImportPoints:
AutoCAD addon to import points listed in text files or a database into AutoCAD.

MyHatch:
AutoCAD addon to create custom hatches for AutoCAD.

Raster Manager:
AutoCAD addon to insert world georeferenced raster images or to save gereferencing world file for raster images.

Stadium:
AutoCAD addon for projecting steps for theaters or stadiums.



MyHatch plugin for AutoCAD

Custom Hatch creation.
If you need more than AutoCAD standard patterns for your hatch, this program is the solution! With MyHatch you can create hatches from scratch working inside AutoCAD, using lines and special tools to simulate arcs and circles.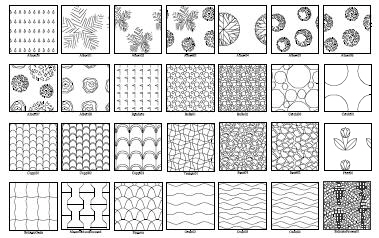 AutoCAD allows users to create .PAT files containing hatch definitions, but you need a program like this to generate text for those files if you want to create complex hatches. This software also allows you to store your hatches sketches inside a drawing for future reuse or editing.

Download the Italian version
Download the English version
Download use and installation guide


If you only want a ready hatch library, you can download library and hatch for AutoCAD here




Import Shapes
Import ESRI ® Shape files in AutoCAD.

Who works with GIS has often the problem of facing with files in ESRI ® Shape format, containing geometry and attributes. This program allows you to import SHP files (and attached DBF Attributes) in AutoCAD, making a copy of linked tables and relinking the copies through the standard database tools already avaible in AutoCAD.
The obtained DWG is a normal AutoCAD drawing, that's also 100% compatible with AutoCAD Map 2008.
Import Shapes recognize Shape files of type Point, PointM, PointZ, PolyLine, PolyLineM, PolylineZ, Polygon and PolygonM, PolygonZ. The only limitations: there is no import option only for MultiPatch files (3D surfaces) and M dimension is not considered.
The attributes are linked retaining their original format (DBF), without changing tables' structure while importing, but cloning them in a project folder and reconnecting them through an AutoCAD data connection (UDL) and standard link templates.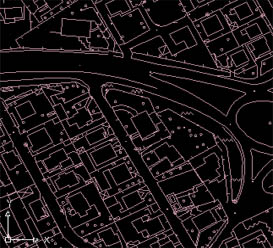 This program helps people working in AutoCAD with maps in ESRI ArcGIS or ArchView format(SHP files). ImportShapes imports different shape files on different layers giving the option to change colors, linetypes, symbols (blocks), and even filling areas (with hatches), automatically creating layers and blocks, if they don't exist.
See a video tutorial here
Download the
English version for AutoCAD 2015-2017 Windows 32/64 bit
English version for AutoCAD 2014 Windows 32/64 bit
English version for AutoCAD 2009-2013 and Windows 32 bit
English version for AutoCAD 2008 Windows 64 bit - AutoCAD 2008
English version for Windows 64 bit - AutoCAD 2011
English version for Windows 64 bit ONLY - AutoCAD 2013
English version for AutoCAD 2014 32/64 bit and AutoCAD 2013 32 bit ONLY




Software Import Points
Insert points automatically from a database or a text file.

Insertion of points from database and rows of text. If you have lists of points (coordinates and attributes) in a text file, a worksheet or a database, you can import them inside your DWG.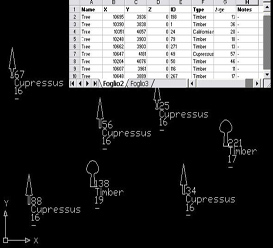 This program helps who works in AutoCAD with relief instruments or anyway has lists of remarkable points in a database, in rows of a text file, rows of Excel, Access, DBase (format also used by Shape files of ESRI), or in any other ODBC compliant database. ImportPoints allows you to import points or blocks with attributes in AutoCAD, transferring the coordinates and alphanumeric attributes from the source table to the design, automatically creating layers and blocks, if necessary. Moreover you will be able to assign the scale, the name or the layer to the imported blocks basing them on the values of the source fields of the database.
See a video tutorial here
download the
english and italian version for Windows 32 bit
english and italian version for Windows 64 bit - AutoCAD 2008
english and italian version for Windows 64 bit - AutoCAD 2011
english and italian version for Windows 32/64 bit - AutoCAD 2013/2014
Note: to select the english or italian version, in the main import dialog window, click on the flags button).


Software Raster Manager
Inserts and georeferences raster images in AutoCAD.

Who works in AutoCAD with maps (i.e. technicians of the territory and Public Administration) will for sure appreciate this program.
Raster Manager places georeferenced raster images using World correlation format (typically avaible for Technical Papers from Public administration) in the design of you DWG.
It places, scales and rotates the image in the right way, as described in the attached (required) World file.
Raster Manager also allows to create the world correlation file, in a simpler way - and even with more pecision - than more sophisticated software like Autodesk Raster Design from Autodesk (but keep in mind that Raster Design has also many other features...).
Without need of expensive investments for sophisticated software, this simple addon places the image, and in a single click creates the World file if needed.
Moreover you will be able to assign not uniform scales on X and Y, a thing you can't normally achieve in AutoCAD, but fully supported by AutoCAD, so that the complete compatibility is maintained with users who don't own Raster Manager. This way you will solve the problem of imported images that sometimes are stretched in one direction by the scanner.
See a video tutorial here
Download the
English version for Windows 32 bit
English version for Windows 64 bit - AutoCAD 2008
English version for Windows 64 bit - AutoCAD 2011


Calculation of gradinate for stages and theatres.

Program for the calculation of the profile of gradinate or disposition of the seats in order to guarantee the visibility of the theater box.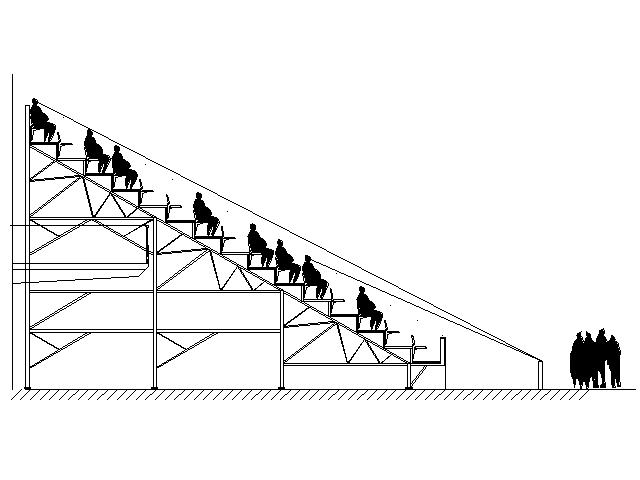 The program is free and opensource.
download the Italian version (sorry for english speaking people, but translations are welcome...)